The Vacc-iNTS project for the advancement of manufacture and clinical development of an innovative vaccine against invasive non-typhoidal salmonellosis (iNTS) funded with 5-year grant by the European Commission was recently launched.
Invasive non-typhoidal salmonellosis is an emerging neglected infectious disease of sub-Saharan Africa mainly affecting children under 5 years of age and immunocompromised individuals. In 2017, it was estimated to be responsible for about 31,600 deaths among children with a case-fatality rate of about 14%. Its difficult diagnosis and increasing antibiotic resistance strongly advocate for rapid development of an effective vaccine that is currently not available.
The Vacc-iNTS consortium, made up of 12 partners from 8 different countries, 4 of which in iNTS disease-endemic areas, aims to advance the development of an urgently needed iNTS vaccine by conducting a Phase I clinical study in adults of Europe and Africa.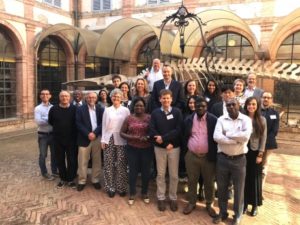 Vacc-iNTS will investigate the immunogenicity and safety of the iNTS-GMMA vaccine, a novel vaccine based on outer membrane blebs released by genetically modified bacteria, developed by the GSK Vaccine Institute for Global Health (GVGH) using the GSK-owned outer membrane (GMMA) technology.
The technology is characterized by a simple, robust and scalable manufacturing process that makes it a suitable platform for the development of vaccines against poverty-related diseases.
Exploratory immunological analyses and sero-epidemiology studies will also be performed to support further vaccine development. Vacc-iNTS will strengthen a collaborative network to enhance disease awareness and drive advocacy.
The Vacc-iNTS network of experts from academic, industry and non-profit organizations met in Siena at the Accademia dei Fisiocritici on 24-25 October 2019 for the project kick-off meeting.
Please for more information see: