The Fondazione is pursuing partnerships on one hand with institutions in Italy, the EU and internationally as sources of technology and financing and on the other with organizations in the developing countries to pursuee development  and availability of new needed vaccines and ensure the correct use of the vaccines already available in the communities struck by endemic poverty. More specifically, the Fondazione aims to offer incentives for the R & D of innovative technologies for vaccination by supporting and promoting:
R&D activities with third-party organizations which:

are centers of excellence for the development of neglected vaccines
present a competitive advantage in favor of poor countries
have an excellent cost/efficacy ratio in their activity
are interested in carrying out these activities for humanitarian reasons

its own projects, even if carried out by third parties
public or private institutions oriented to R&D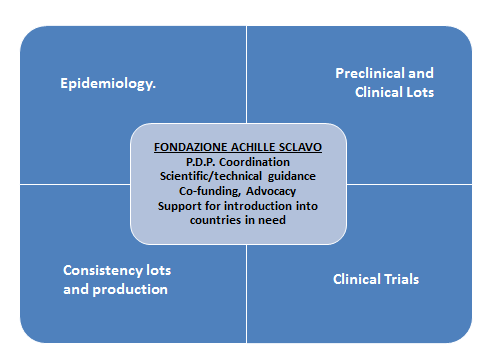 The Fondazione Achille Sclavo carries out its role of coordination and organization by adapting "Collective Impact" partnerships to the non-profit field.
The Collective Impact consists in satisfying the requests of the public health systems in need by partnering public and private organizations in a series of actions in those areas where each organization is capable of making the greatest contribution possible while at the same time reaching its own objectives. This is done through the creation of shared values, which involves not only coordinating and leading an initiative, but more exactly implementing a series of elements which reinforce the shared objectives of the partners and significantly increase the probability of success of a complex project.
According to John Kania and Mark Kramer, in the article "Collective Impact", published in the Stanford Social Innovation Review, Winter 2011, elements which lead to the success of a collective impact partnership are:
a centralized institutions with staff dedicated to the initiative who plan, manage and support the project by facilitating the relationships among the partners, providing technical support, managing the data, the reporting and the administration needed for the project to function smoothly,
an agreement on the problem to solve and a shared approach to the solution through coordinated actions,
a shared system of measuring the advancement and obtainment of the objectives,
activities mutually supporting each other to increase the effectiveness of the activities of the other partners,
continuous communication among partners.