What can be done
The extension of vaccinations to developing countries has evolved through three phases:
a first phase where industrialized countries or international organizations donated vaccines to poor countries, using vaccines already developed in the developed countries for the primary series of pediatric vaccinations, that is diphtheria, pertussis, tetanus, polio. Later hepatitis B, Hemophilus influenza type b and measles were added, initially produced in industrialized countries then also in part in the developing countries,
a second phase in which more complex and costly vaccines were adapted to the needs of the developing countries following a commitment on the part of financiers to purchase a certain quantity based on the population to be immunized (Advanced Market Commitment),
a third phase begun a few years ago, in which new vaccines particularly effective in children, the highest-risk age group, are developed for use in poor countries through agreements with institutions and manufacturers working in the poor or emerging countries (Product Development Partnership).
The Fondazione Achille Sclavo, thanks to its experience in developing and introducing pediatric vaccines, the availability of the technology necessary to produce these vaccines at reasonable costs and its access to institutions and manufacturers working in less-developed countries can and will contribute to this effort for the future of poorer countries.
We ask you to help us make this dream a reality: it is the best chance to make a qualitative difference in the fight against infant mortality.
The Vicious Cycle Diarrheal Diseases – Poverty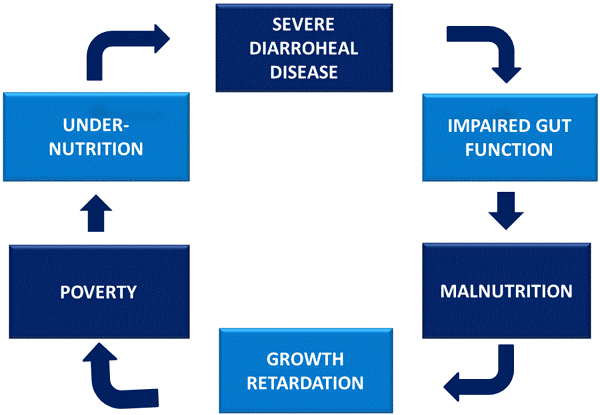 Source: Bill & Melinda Gates Foundation