#GivingTuesday is the global day dedicate to celebrate and encourage giving.
Occurring this year November 28, 2017, #GivingTuesday is held annually, since 2012, on the Tuesday following Thanksgiving (in US), and the widely recognized shopping events Black Friday and Cyber Monday to kick off the holiday giving season and to inspire people to give back in better and smarter ways to the charities and causes they support.
#GivingTuesday is a day for everyone, everywhere to give and demonstrates how every act of generosity counts, and they mean even more when we give together. Today, #GivingTuesday is celebrated in 100 states and countries around the world and this year, for the first time, also Italy takes part of the global celebration.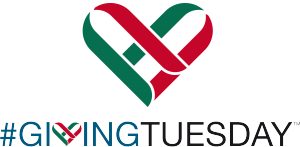 Fondazione Achille Sclavo joins the #GivingTuesday to raise public awareness of its mission of reducing child mortality and improving health and life conditions in the poorest and disadvantaged countries. Fondazione Achille Sclavo is present on givingtuesday.it with the S-AFRIVAC project devoted to the development of a sustainable vaccine against an endemic African disease that causes septicemia especially in children under the age of five: the non-typhoid invasive salmonellosis.
Mark your calendar! November 28 is #GivingTuesday. How could you give?
Help us to spread the news and express your interest towards our foundation! Connect to: http://www.ganassinisocialresponsibility.com/bando and like Fondazione Achille Sclavo's project! It will only take one minute of your time (info)
Fondazione Achille Sclavo is an independent, non-profit organization (certified equivalent to a U.S. public charity), entirely dedicated to research and education activities, which depends on public donations and grants. Our work depends also on your generous support: you can donate here
Thank you from all of us at Fondazione Achille Sclavo